Admissions
A UNIQUE STUDY PROGRAM FOR HEALTH AND SPORTS PHYSIOTHERAPY
The aim of the programme is to prepare graduates for the profession of physiotherapist with a unique health and sports focus, for work as university educated professionals involved in the development of physiotherapy and the promotion of the integration of theory and practice – individuals possessing the theoretical knowledge and practical skills necessary for lifelong learning in their specialty and for further academic education.

WHY CHOOSE PHYSIOTHERAPY AT OUR SCHOOL?
The graduates are highly qualified to work in health care settings as well as in sports. Our university provides professionals with superb theoretical knowledge and practical skills. The focus is not only on preparing future PTs but also professionals who will further develop the field of physiotherapy, work in academic settings and in research.
| | |
| --- | --- |
| Title of study programme | Physiotherapy |
| Type of study programme | Bachelor´s degree, state-accredited |
| Study programme profile | Professional |
| Form of study | Full-time |
| Standard length of study | 4 years |
| Language of study | English |
| Awarded academic title | Bc. |
Approximately 12 students to be accepted in 2021/2022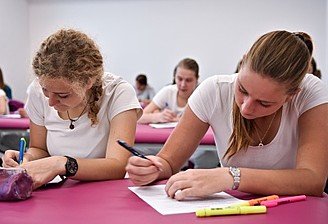 Palacký university ranks second best czech university
Individual and personal approach
Modern methods of teaching
Close contact with professors
Possibility to study at one of our 40 partner institutions within erasmus+
Numerous sporting facilities
INFORMATION ON ADMISSION FOR THE ACADEMIC YEAR 2021/2022
Apply for admission: from 1st January 2021
Deadline for applications: 30th June 2021
Registration fee: 690 CZK
Applicants are obliged to pay the registration fee by the respektive deadline for applications at the latest.
Tuition fee: EUR 8,000 per academic year
The entire course is taught in English language.
Documents Required for Application
The application is submitted in an eletronic form
Certificate of a comlete high/secondary education or the study in the last year of secondary school
Proof of English language competence, minimum level B1 according to CEFR:

PET/FCE Cambridge exam
BULATS score 60
IELTS 5 min 4 from each part or documents about previous study in English language

Passport Copy of valid passport or European ID card
The original document proving the completed secondary education (accompanied by a certified translation to Czech or English in case it is not originally in one of these languages) must be submitted by the deadline also as officially authenticated hard copies to the International relations Office of the Faculty of Health Sciences:
Ms. Irena Jedličková
International Relations Office
Faculty of Health Sciences
Hněvotínská 3
775 15 Olomouc
Czech Republic.
WE WILL ACCEPT APPLICANTS FOR STUDY WITHOUT ENTRANCE EXAM!
Erasmus+ aims to modernize and improve higher education across Europe and the rest of the world.

It gives students and staff opportunities to develop their skills and boost their employment prospects. Good practices will be shared between universities and businesses in Knowledge Alliances.

Higher education institutions from participating countries can work with those from neighborhood countries, non-EU Balkan countries, Asia, Africa and Latin America to develop their educational systems.
What does it involve?

With the European economy reliant on the creation and application of knowledge, strong links between the business sector and higher education are essential. Enterprises have become increasingly involved in European education and training programmes, with positive results for both sides, leading to long-lasting partnerships.
The relevant Erasmus+ activities for cooperation with business are:

Traineeships for students: students do a work experience in a company abroad for up to a year;
Staff 'mobility' for teaching: company staff can teach at a higher education institution abroad, passing on their experience to academia;
Staff 'mobility' for training: teaching and other higher education staff receive training in a foreign company;
Co-operation: business or representative associations can take part in projects through:
Strategic Partnerships
Capacity Building Projects
Knowledge Alliances

How to apply?

Interested students should apply to the international office at Palacký University or office of their sending higher education institution. The office will provide information on the possibilities of a traineeship abroad as well as the modalities to apply for and receive an Erasmus+ EU grant.